Water Features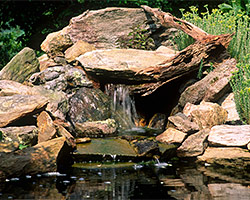 Any type of water feature can change the entire look and feel of a landscape. It adds a certain charm and serenity and the sound of flowing water can soothe frazzled nerves. Today, many homeowners in Moulton, Florence, Muscle Shoals and Athens have asked us to install waterfalls, ponds, fountains and streams on their property. In fact, some of our long time clients in Decatur, Huntsville, Birmingham, Madison, and Hartselle also recently added rock waterfalls in the garden and entrance areas of their house.
There is no doubt about the fact that a water feature can uplift the entire design element of a landscape, be it residential or commercial. While these elements look great, it's important that the installation be handled by experts. Adding these to a garden or yard is not just about buying a readymade fountain and placing it somewhere. It's about ensuring that it complements the overall look of that space.
Some of our customers ask us to install stone fountains or rock waterfalls as part of a larger landscaping project; some clients have approached us to add these features to an existing garden. We handle all type of projects with equal amounts of expertise and ensure that the water feature enhances the appeal of your property.
Water Feature - The Design Considerations
The good thing is that a small pond, waterfall or a fountain can be accommodated in the smallest of gardens and they add the attraction quotient without being very expensive. We work closely with you on this project and while creating water feature design, take into account aspects such as: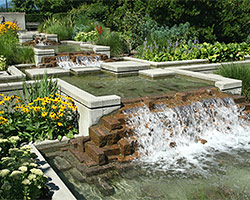 The available space
Architectural concepts used in the landscaping and your home or commercial building
Your preferences
Budget
Availability of proper drainage
In case you want a KOI ponds, it's important that it be installed in a shaded area
Filtration system installation
Materials to be used
The styling of the water feature
These are some of the basic considerations when we are designing and installing fountains or any other water feature.
Types Of Water Features
As mentioned earlier you can choose from a range of features such as:
Fountains - These are standalone installations that can become the focal point in a garden. In fact, it's possible to add more than one to garden depending on how large the available space is


Ponds - These could have either only aquatic plants, or plants and KOI fish. The ponds fit perfectly into an Asian theme garden but are high maintenance features.


Waterfalls - You can choose from rockery type ones that have water cascading down an artistic rock installation; alternatively, you can also have a pondless waterfall which is a good option for homes that have kids or pets or if there is a space crunch


In addition to these, we can install streams and bubbling boulders depending on what your specific requirements are. We can provide you with custom solutions for design and installation of water features. For more information and an obligation-free quote, call Horti-Tech Landscape Company at 256-410-3238. You can also use this
online form
to get in touch with us or send us queries and we will revert soon.
Areas We Service:
Decatur, AL
Huntsville, AL
Madison, AL
Birmingham, AL
Hartselle, AL
Moulton, AL
Florence, AL
Muscle Shoals, AL
Athens, AL