Patio Pavers
Patios are very popular outdoor features on residential properties across Moulton, Florence, Muscle Shoals, and Athens. Most people want to have more than just gardens and lawns on their property. They want to be able to use these areas in a more functional manner and adding a patio or deck is a great way to do it. Horti-Tech Landscape Company has designed and installed a number of patios on properties in and around Decatur, Huntsville, Birmingham, Madison, Hartselle and our clients are very happy with the overall results.
Paving Stone Benefits
We are very meticulous in our approach to our work and ensure that the complete design and patio paving installation is carried out in an expert and skilled manner. Many of our customers ask what material is best for these outdoor spaces. In our years of experience we have seen that paving stones are the best option for patios. There are certain distinct benefits to using brick or concrete pavers for patio flooring, such as: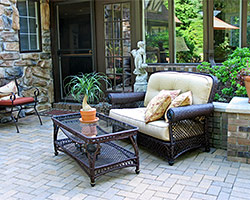 It adds to the aesthetic value and helps create the kind of ambience you want
Since pavers are available in materials such as concrete, brick and natural stone, it's possible to create the look you want. Every home structure is different and we can mix and match different shapes, colors, designs, textures and styles of pavers to complement the look of your property.
Patio pavers are very strong and durable and last for a number of years
These are low maintenance installations and you don't have to spend too much time cleaning them
The installation requires special training and skill, but can be completed quickly by our well-trained paving installers
In case any kind of repair work is required the individual damaged units can be easily and quickly replaced
Concrete pavers are very economical while brick ones are in the median price range. Natural stone paving tends to have a higher upfront cost, but provides long term value as it lasts for years.
Aspects of Patio Design
Regardless of how you look at it, getting your patio paved with any type of paving stone is an excellent option. When we handle patio design for you, we take a lot of factors into account, such as: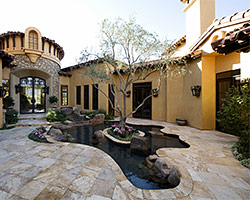 The size of the available space
Styling of the home or commercial structure
Client preferences
The landscape design
Your budget
Keeping all these aspects in view, we install the best quality patio pavers using high grade workmanship too. This ensures that your property looks great and that provides years of trouble-free service. We are a company that focuses on providing excellent customized solutions to our clients and we do this at very reasonable rates.
You only have to tell us what your requirements are and we will design the best patio paver plans for you. For more information and an obligation-free quote, call Horti-Tech Landscape Company at 256-410-3238. You can also use this
online form
to get in touch with us or send us queries and we will revert soon.
Areas We Service:
Decatur, AL
Huntsville, AL
Madison, AL
Birmingham, AL
Hartselle, AL
Moulton, AL
Florence, AL
Muscle Shoals, AL
Athens, AL