Landscape Maintenance
Residential
|
Commercial
Commercial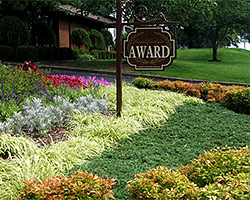 Landscapes add to the attraction quotient of a property and to its value as well. However, just installing a beautiful landscape isn't enough; only regular and consistent maintenance will ensure the gardens and lawns look good and stay healthy at all times. We at Horti-Tech Landscape Company have been providing excellent Commercial Landscape Maintenance services to businesses across Decatur, Huntsville, Birmingham, Madison, and Hartselle.
Maintaining commercial landscapes is very different from maintaining residential ones; the former may see more traffic than gardens in homes and so the wear and tear will be higher. In addition, the maintenance work may have to be carried out late in the evenings, after business hours, or on weekends in order to cause the least amount of disturbance. Our expert landscapers have worked on a number of projects and serves customers in and around Moulton, Florence, Muscle Shoals and Athens too.
Landscape Maintenance – Different Aspects
This is a specialized service and we create landscape maintenance plans that are customized to your requirements. There are a number of variables that have to be taken into account while designing these plans. The aspects that we take into account while creating these packages are:
Size of the property
Spread of the property
Grading of the land
Number and type of trees and plants
The lawns and type of grass
Hardscape features that are present
Which water features have been installed
Irrigation and Drainage installations
Other
All Round Landscape Maintenance Services
As you can see, there are a number of aspects that have to be taken into account and we have the expertise, knowledge, skill and the experience to provide excellent services for garden and lawn maintenance. Customers opt for our solutions because we provide comprehensive services such as:
Mowing & weeding
Border maintenance
Conduct soil pH level checks
Monitor growing patterns of planting
Shrubs & plant pruning
Seeding and aerating
Aeration & Mulching
Pest control
Irrigation evaluation & repairs
Power raking & Leaf removal
Tree trimming &Seasonal cleanups
New planting consultation & installation
Bedding displays
Fine turf maintenance
Hand pruning & Fertilization
Arboriculture
Grass & hedge cutting
Hanging baskets and pathway planters
Cost-Effective Landscape Solutions
We understand that when it comes to the look and maintenance of your property, first impressions matter a great deal. This is why we focus on working consistently and expertly to ensure that every feature in the landscaping is maintained well and that the installations are in a state of good repair and functioning perfectly.
While the focus is always on providing high grade solutions, we also maintain very low landscape maintenance cost. Our experts work closely with you to understand what your specific requirements are and then provide solutions that fit perfectly into your budget. We extend our services to large scale business and commercial complexes as well as business complexes and can handle projects of every scale and complexity.
For more information, call Horti-Tech Landscape Company at 256-410-3238. You can also use this
online form
to get in touch with us or send us queries and we will revert soon.
Click on the images below to view a larger display.
Photo 1

Photo 2

Photo 3

Photo 4

Photo 5





Photo 1
Areas We Service:
Decatur, AL
Huntsville, AL
Madison, AL
Birmingham, AL
Hartselle, AL
Moulton, AL
Florence, AL
Muscle Shoals, AL
Athens, AL