Landscape Design & Installation
Landscape Design & Installation is an art and a science. It's about using all the right elements in the right measure and ensuring that they create a seamless whole that adds to the overall ambience and functionality of the outdoor spaces on your property. Horti-Tech Landscape Company has over 18 years of rock solid experience in this space; we are the experts that have handled various landscape planning projects for commercial and residential customers across Moulton, Florence, Muscle Shoals, and Athens.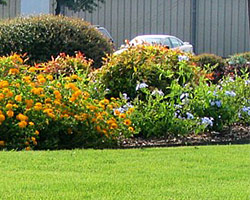 We have also catered to clients in and around Decatur, Huntsville, Birmingham, Madison and Hartselle and have created stunning gardens and yards on their properties. With us handling the project, you are assured that the best and latest materials are used in the work and that the design and installation of the landscape will be outstanding too.
The solutions we provide are always in-line with the specifications and preferences of our clients and the budget they are comfortable working with. Even as we are highly focused on maintaining high quality standards in our work, we always maintain very reasonable landscape installation costs. This provides our customers value for money every time they hire our services.
Benefits Of Professional Landscape Planning
There are some distinct benefits to opting for professional landscape design solutions:
Aesthetics - When you have well-designed gardens and yards, it adds to the allure of your property, its value and curb appeal.


Functionality - Based on your specific requirements and preferences, we can install outdoor features such as arbors, pergolas, decks, patios, pool decks, outdoor kitchens, retaining walls, fireplaces and fire pits etc. All of these add a distinct charm to your property while increasing its functionality quotient.


Energy Efficiency - Not many people realize this, but having well-maintained green spaces helps reduce the overall temperature in your immediate surroundings. We plan and plant trees and plants in a very strategic manner - when the large windows, patios, decks and balconies are well shaded, it also reduces the strain on the HVAC system in your home or commercial property. In turn, this adds to the energy-efficiency of these installations and helps reduce your power bills.


Better use - Having beautifully designed outdoor spaces also encourages you to use these spaces more often and you will find that you and your family are spending more time in the yard and garden.


Customized Landscape Design Plans
In short, we are the experts that handle every aspect of the landscape installation in such a manner, that you get spaces you will love to have and use, on your property. In addition to the actual installation work, we provide excellent landscape maintenance services and this helps ensure that all the spaces on your property are beautifully maintained at all times.
You only have to tell us what your requirements are and we will craft the best landscaping design plans for you. For more information and an obligation-free quote for Landscape Design & Installation, call Horti-Tech Landscape Company at 256-410-3238. You can also use this
online form
to get in touch with us or send us queries and we will revert soon.
Areas We Service:
Decatur, AL
Huntsville, AL
Madison, AL
Birmingham, AL
Hartselle, AL
Moulton, AL
Florence, AL
Muscle Shoals, AL
Athens, AL