Landscape Lighting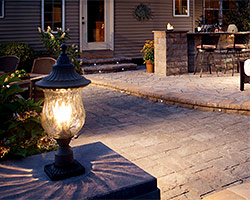 Every property owner who has outdoor spaces like gardens, yards or commercial landscaping likes to be able to use these areas even after dark. In fact, a landscape can don a very different and ethereal look once the sun has set. However, this can happen only if these outdoor spaces have the right type of landscape lighting. Not only do lights add to the allure of the landscape, but it makes these spaces more usable too.
When we at Horti-Tech Landscape Company handle any landscaping projects in Decatur, Huntsville, Birmingham, Madison and Hartselle, we encourage our clients to consider installing exterior lights on their property. While many homes and commercial properties do have lights installed in their landscaping, these installations are nothing more than a few floodlights or some pathway lights.
However, landscape lighting is much more than that. Many of our clients across Moulton, Florence, Muscle Shoals and Athens have opted for these services and we have created stunning effects on their properties with LED lights and solar garden lighting. In fact, having the right type of outdoor illumination is an excellent way to enhance the beauty of certain trees and plants or even hide some design flaws in the garden.
Areas That Need Lighting
We have exterior lighting experts on board our team who have deep understanding about the different types of lighting elements, fixtures and trends. In fact, they also have very good understanding about different types of trees and plants and this helps them create landscape lighting design concepts that enhance the look of your property. The different areas where you need to install lighting are: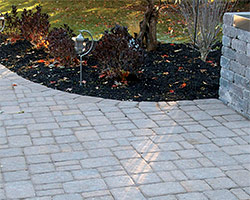 Borders of pathways and walkways
Behind bushes and trees
Underwater in ponds and fountains
Outdoor kitchens
Near benches, patios, decks and poolscapes
Tall trees
Gardens steps and arbors or pergolas
Entranceways
Outdoor fireplaces and pits
Decorative stone work
Architectural elements in your home structure
Border of fences and walls
Gate and gate posts
Retaining walls
Types of Lights
We do install some floodlights and halogen lights; however, we encourage our clients to opt for LED light installations. Though the upfront cost of the latter is higher than halogen/ incandescent bulbs, they provide 80% energy efficiency and help reduce your energy bills; and provide value in the long term. With us, the focus is always on providing our clients value for money. We work in a concerted manner, on every project big and small and ensure that you are 100% satisfied with the solutions we provide.
Complete Landscape Lighting Solutions
We use the best materials and workmanship in our work and provide maintenance services for all these installations as well. In short, we provide end-to-end landscape lighting solutions that match your requirements to perfection. For more information and an obligation-free quote, call Horti-Tech Landscape Company at 256-410-3238. You can also use this
online form
to get in touch with us or send us queries and we will revert soon.
Areas We Service:
Decatur, AL
Huntsville, AL
Madison, AL
Birmingham, AL
Hartselle, AL
Moulton, AL
Florence, AL
Muscle Shoals, AL
Athens, AL