Pool Decks
Many residential properties across Decatur, Huntsville, Birmingham, Madison and Hartselle have pools and the one way to create a unique look in this space is to add pool decking to it. These areas become a leisure spot for families to spend some quality time with each other. We at Horti-Tech Landscape Company have handled a large number of projects for clients in and around Moulton, Florence, Muscle Shoals and Athens as well.
Pool deck installation is a highly specialized job that we are able to tackle in an expert manner. With over 18 years of experience in this space we have the ability to design and install the most stunning and functional pool decks for you. There are a number of reasons why customers opt for our services, such as: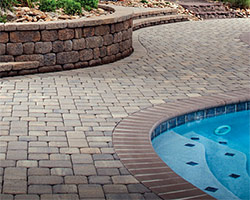 Experienced operators
Trained and skilled personnel
High quality materials used
Creative design process
Comprehensive poolscape design and installation solutions
Top-notch workmanship
On-site supervision
Excellent project management
Timely completion of work
100% customer satisfaction
Personalized services
Customized solutions
Cost-effective price points
Deck Materials
When it comes to pool deck flooring, it's important to make a smart choice. These spaces are exposed to climatic changes and have to deal with a lot of wear and tear. One important factor is that the material you choose should be anti—skid and should be able to repel water, moss and mildew. Keeping all this in view, the one material that is perfect for pool decks are pavers. You can choose from brick, concrete or natural stone ones.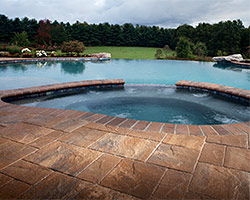 There are a variety of designs, styles, colors and textures to choose from. Once you have made your choice, our landscape designers will use their creativity and create the most appealing patterns with these paving stones. Our expert installation professionals will handle the job in the most skilled manner and this ensures the pool pavers provide years of trouble-free service.
We recommend to our clients that they should opt for permeable paving stones like ones made of travertine. These are perfect for pool areas as they allow the water to permeate through. Since there is no water accumulation, the chances of slippage are reduced and it also prevents growth of moss and mildew.
Other Pool Deck Features
Apart from the actual deck, we can also add planter boxes, decorative pillars, railings and balustrades as well as raised seat walls; all of these add to the aesthetics and functionality of the poolscape. Our designers have an eye for details and ensure that all the elements have a very seamless look and. While we are highly focused on providing quality work, we keep a handle on the budget and our pool deck pricing is always very reasonable.
We can provide you with custom solutions for pool deck design and installation. For more information and an obligation-free quote, call Horti-Tech Landscape Company at 256-410-3238. You can also use this
online form
to get in touch with us or send us queries and we will revert soon.
Areas We Service:
Decatur, AL
Huntsville, AL
Madison, AL
Birmingham, AL
Hartselle, AL
Moulton, AL
Florence, AL
Muscle Shoals, AL
Athens, AL