Driveway Pavers
Driveways are features that are used almost on a daily basis. If they are on a commercial property, they will be used even more and will have to face a greater amount of wear and tear as well. This also means the materials used in their installation will have to be of the highest grade and should be sturdy and durable too.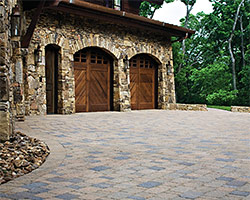 Horti-Tech Landscape Company is a niche landscaping business that has been providing excellent installation of driveway paving on commercial and residential properties across Decatur, Huntsville, Birmingham, Madison and Hartselle. We have over 18 years of experience behind us, and in this time have handled big and small projects for many customers in Moulton, Florence, Muscle Shoals and Athens too.
We are the experts that provide driveway design ideas and handle the installation to perfection. In many ways, the driveway is one of the first things a visitor to your business or home sees; and first impressions matter a great deal.
Why Use Driveway Pavers?
The one way to ensure you have an impressive and well-maintained driveway is to opt for stone, concrete or brick pavers. There are a number of benefits to using paving on your property:
Aesthetics - Pavers look good in any type of setting. Regardless of whether your building structure is designed on a classic or contemporary architectural styling, you are sure to find paving that will complement it to perfection


Functionality - As mentioned earlier, your driveway tends to see a lot of foot and vehicular traffic; apart from this it has to be able to sustain climatic changes and be able to resist oils stains and scratches etc. No matter which way you look at it, interlocking pavers become an excellent option for all types of driveways


Design flexibility - You can choose from brick, concrete or natural stone pavers; these are available in a variety of colors, designs, styles and shapes and this gives us the design flexibility to create a very unique paver design on your driveway


Ease of installation - Since these are individual units that are typically installed on compacted sand, the installation is easy. Though it requires specialized attention and skill, the job can be completed quickly by expert installers from our company


Low Maintenance - This is a very important factor and one that most property owners are very particular about. Any material that is used in outdoors spaces should be low maintenance. Once driveway paving stones have been installed and sealed well, they will last for a number of years with basic maintenance like occasional pressure-cleaning and sweeping


Easy repair - Though these installations are very hardy, in case of any damage, if you need to repair the paving, you only have to get the individual unit/s replaced. This repair is quick and it doesn't impact the integrity of the rest of the installation.


For more information and an obligation-free quote for driveway paver design & installation, call Horti-Tech Landscape Company at 256-410-3238. You can also use this
online form
to get in touch with us or send us queries and we will revert soon.
Areas We Service:
Decatur, AL
Huntsville, AL
Madison, AL
Birmingham, AL
Hartselle, AL
Moulton, AL
Florence, AL
Muscle Shoals, AL
Athens, AL