Walkways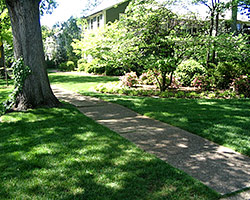 Outdoor spaces on a property can have lawns and gardens, flower beds and pools or gazebos and pergolas. These various features help add to the functionality of these areas. But when you want to navigate through these different areas, you need walkways and pathways. In fact, these installations prevent your lawns and garden areas from getting damaged. A walkway can connect one area of the landscaping with another.
We at Horti-Tech Landscape Company have handled a large number of walkway installation projects for customers in Decatur, Huntsville, Birmingham, Madison, and Hartselle. Our landscape design experts work very closely with you to understand what your specific ideas for your landscaping are and they provide their own inputs to match those ideas, so you have spaces that look amazing and are more functional too. Many of our clients in and around Moulton, Florence, Muscle Shoals, and Athens have also asked us to install paver walkways on their property.
Types Of Paved Walkways
When we install these features, we know that a property owner wants their home and its open spaces to look unique. This is why we provide custom walkway designs that complement the look of the existing features in the landscaping. While we always focus on aesthetics and functionality, we also know that our clients want solutions that will be strong and long lasting. In this respect, paving stone walkways are the best option. Though it is possible to install gravel or poured and stamped concrete pathways, paving stones are a distinctly better option because: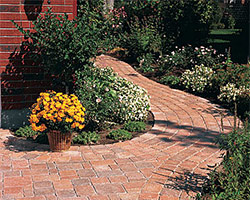 They are very versatile in terms of application and can be used in commercial and residential application
Pavers provide design flexibility as they are available in a range of styles, colors, shapes and textures
These installations are very hardy and are able to weather the changes in climate
They can withstand excessive wear and tear which can happen more on commercial properties
Since pavers can be used for entranceways, driveways, porches, decks, patios and poolscapes too, it helps give the entire landscape a very cohesive look
Concrete pavers are very economical and brick and natural stone offer value for money in the long term
These walkway installations become very low maintenance and this is something every property owner wants
Since paving stones have to be installed on compacted sand and then sealed, the process is quick and easy
Repair is easy as only individual units have to be replaced in case of any damage
Cost-Effective Walkways
We use high grade materials and workmanship in the installation and ensure that the job is completed in a meticulous and timely manner. There is never any compromise on quality and we maintain very reasonable pricing too.
We can provide you with custom solutions for walkway installation. For more information and an obligation-free quote, call Horti-Tech Landscape Company at 256-410-3238. You can also use this
online form
to get in touch with us or send us queries and we will revert soon.
Areas We Service:
Decatur, AL
Huntsville, AL
Madison, AL
Birmingham, AL
Hartselle, AL
Moulton, AL
Florence, AL
Muscle Shoals, AL
Athens, AL