Irrigation
Landscaping design and installation projects include various elements and features such as hardscaping, softscaping, paver installations, water features, landscape lighting and pool deck installations etc. While all of these are important to most landscapes, irrigation is an integral aspect of every landscape.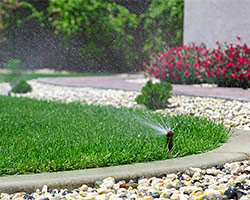 In fact, regardless of how well designed and installed your garden is, if it doesn't have the right kind of irrigation system installed; your plantings will not be able to survive for long. The right of irrigation ensures that all the trees, plants and lawns on your property receive the right amounts of water and that will help them survive climatic changes and remain healthy for years to come.
Horti-Tech Landscape Company is a company with over 18 years of expertise in this space. In this period of time, we have catered to a large number of commercial and residential customers in and around Moulton, Florence, Muscle Shoals, and Athens.
We have keen horticultural knowledge and training and understand how to provide irrigation installations based, not just on the type of plantings, but also on the basis of the soil quality and climate in a specific area. Our clients across Decatur, Huntsville, Birmingham, Madison and Hartselle have come back to us with very positive feedback about our irrigation design and installation work.
Irrigation Planning
The simple fact is that irrigation is much more than just ensuring that all the plants and turf installations are watered regularly. Every plant and tree has different watering needs and only experts with a strong horticultural background will be able to provide solutions based on those needs.
Typically, we provide irrigation ideas and installation services as part of a broader landscape installation project. In this case, we ensure that plants and trees with similar watering needs are planted close to each other. This ensures they get the right amount of water.
Aspects of Irrigation Design and Installation
However, we also get a lot of requests from property owners who want to upgrade only their irrigation systems. We handle those projects with a great deal of expertise and dedication too. When we are designing any irrigation system, the different factors we take into account are: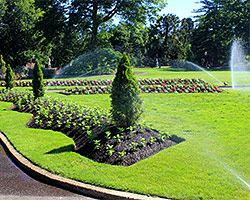 The spread and size of the land
Grading of the property
Type of plantings
Climatic conditions
Soil conditions
Watering requirements of different softscaping elements
Manual or automatic irrigation system
Other
Types Of Irrigation Systems
Based on where the plants are and the type of plants and lawns that have to be watered, we may install sprinklers, drip irrigation systems or soaker hoses. Today, most of our clients opt for automated systems. These offer a lot of convenience and once they have been installed, you don't have to worry about switching on and off the watering system at the right time every day.
As part of our landscape maintenance services, we can also maintain these irrigation systems and ensure they are functioning optimally at all times. For more information and an obligation-free quote for irrigation system installation, call Horti-Tech Landscape Company at 256-410-3238. You can also use this
online form
to get in touch with us or send us queries and we will revert soon.
Areas We Service:
Decatur, AL
Huntsville, AL
Madison, AL
Birmingham, AL
Hartselle, AL
Moulton, AL
Florence, AL
Muscle Shoals, AL
Athens, AL