Landscape Maintenance
Residential
|
Commercial
Residential
You will notice that many residential properties across Decatur, Huntsville, Birmingham, Madison and Hartselle have beautifully landscaped gardens and yards. You will see well-manicured patches of turf, neatly-trimmed bushes and hedges and beautiful perennials and flowering plants. We are very proud of the fact that we are the ones who maintain many of those landscapes, just as we do several that are situated in and around Moulton, Florence, Muscle Shoals and Athens.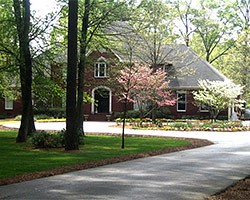 Landscaping is a highly specialized field and it takes more than just a bit of mowing and trimming to ensure that all the outdoor spaces on your property are in a good condition. Horti-Tech Landscape Company is a landscaping business that has been in operation for almost 20 years. In this time we have catered to a large number of customers across the region. No matter what the size of your property is, we can provide you with excellent residential landscape maintenance solutions.
We are not just gardeners; we are essentially horticulturists and expert landscape designers and installers and know what it takes to provide customers with customized landscape maintenance plans. While we do have some standard packages you can choose from, we understand that every property is different and that the elements on it are different too. This means the attention that the plants and features need is different too.
Different Garden Maintenance Services
We understand this and use our vast knowledge of horticulture, climate & soil conditions, and drainage and irrigation techniques, to provide solutions that work perfectly for you. As part of our residential landscape maintenance solutions we handle:
Regular weeding, pruning & trimming
Leaf & debris removal
Dead-heading
Lawn Mowing, trimming and edging
Sod installation & repair
Mulching & aeration
Tree maintenance
Runoff checks
Repair and maintenance of paving stone
Planter bed maintenance
Drainage & irrigation checks
Pressure washing of all the paved areas
Cleaning water features
Other
High Quality Landscape Maintenance
The plan that you choose could have any of these aspects included in it. Once we have identified what your exact requirements are, we will then provide customized landscape maintenance packages that offer you value for money. We are a company that is fastidious about maintaining quality; our company uses the best materials, the latest technology, organic fertilizers and excellent workmanship to ensure your gardens and backyards look beautiful and stay healthy at all times.
When you have beautifully maintained outdoor spaces, you will be more inclined to using them, and these areas add to the value of your property too. You only have to tell us what your specific requirements are and you are assured of the best solutions.
We can provide you with custom solutions for residential landscape maintenance. For more information and an obligation-free quote, call Horti-Tech Landscape Company at 256-410-3238. You can also use this
online form
to get in touch with us or send us queries and we will revert soon.
Click on the images below to view a larger display.
Photo 1

Photo 2

Photo 3

Photo 4





Photo 1
Areas We Service:
Decatur, AL
Huntsville, AL
Madison, AL
Birmingham, AL
Hartselle, AL
Moulton, AL
Florence, AL
Muscle Shoals, AL
Athens, AL